Conference is right around the corner! Keep your kids and youth busy with these 15 BEST LDS General Conference Printable Activities, Coloring Pages, Journals, and more.
This post may contain affiliate links. As an affiliate, I make a commission on qualifying purchases at no extra cost to you. See Disclaimer for more details.
It can be hard for kids and youth to sit still for General Conference.
And I don't blame them, it is long!
Beat the boredom with these awesome printables for kids and youth! This list includes the BEST 15 coloring pages, posters, printable activities and printable journals for primary children, young men, and young women alike.
I have included both FREE and CHEAP options, so take your pick!
15 BEST LDS General Conference Printable Activities & Coloring Pages
Coloring Pages & Posters:
Perfect for toddlers, primary kids, and school aged kids, these General Conference themed posters and printables are perfect to color with crayons, pencils or markers. Share them with your primary class, or just use them at home.
This poster is a HUGE 36 by 24 inch printable that can be used at home or for your primary kids. I designed it as an easy way to keep kids busy while still focusing on conference! Purchase once, print as many as you want!
It features lots of cute religious themed images to color such as:
A church house
Ties
A sword and Shield
Scriptures
This poster is very cute with the faces of the prophet and apostles, perfect for older kids who want to take notes and color at the same time! Just write your favorite quote into the bubbles! This is a CHEAP option by Colormorey.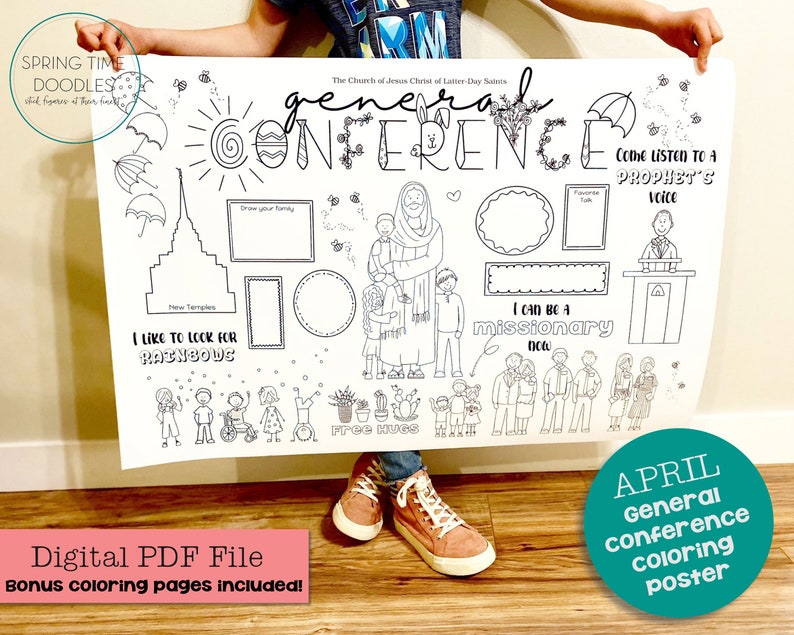 This poster is adorable and perfect for spring. It comes with bonus coloring pages and there is also an October version in the shop! Less than $5! By Spring Time Doodles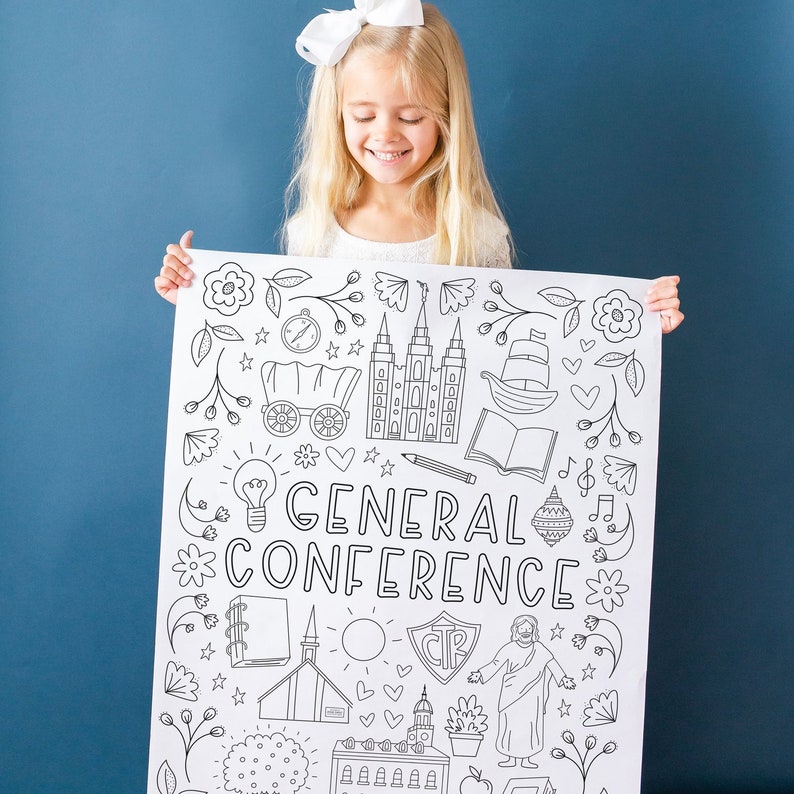 This super cute coloring poster from AZsundayprintables is overflowing with LDS doodles! This is a perfect image to reuse again and again, even older kids or teens will like this one!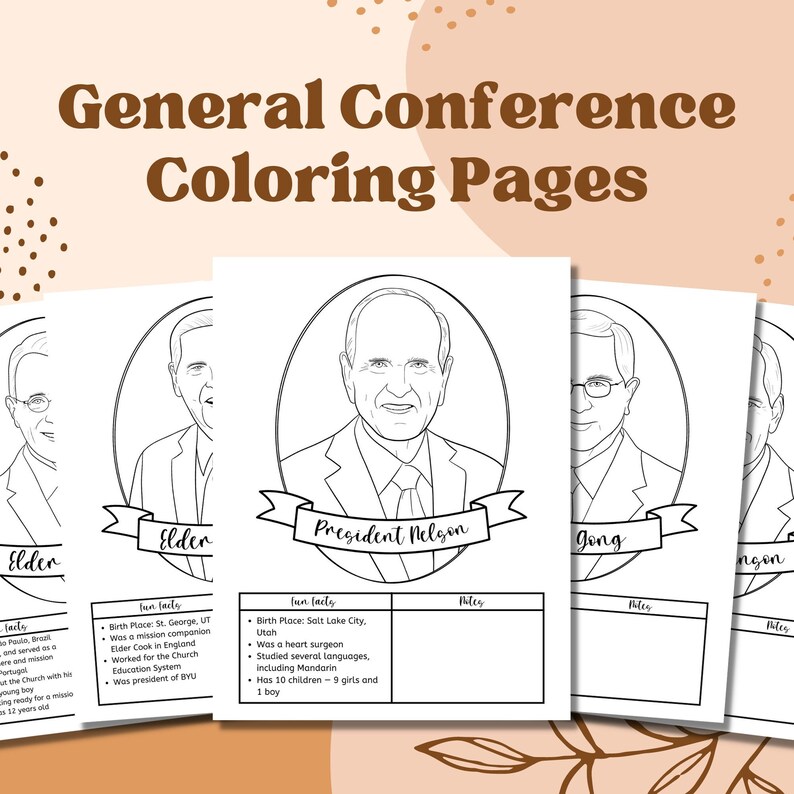 This awesome 15 page packet by darlingprintsdesign features the First Presidency and 12 Apostles to color! This is a huge packet of coloring pages for a super low price, really good for families with older kids!
Includes fun facts about each leader.
Printable Journals:
These LDS General Conference themed journals are easy to print at home or at a print shop, and a perfect way to help your youth record their impressions while also keeping busy.
These would make a great youth themed activity or hand out.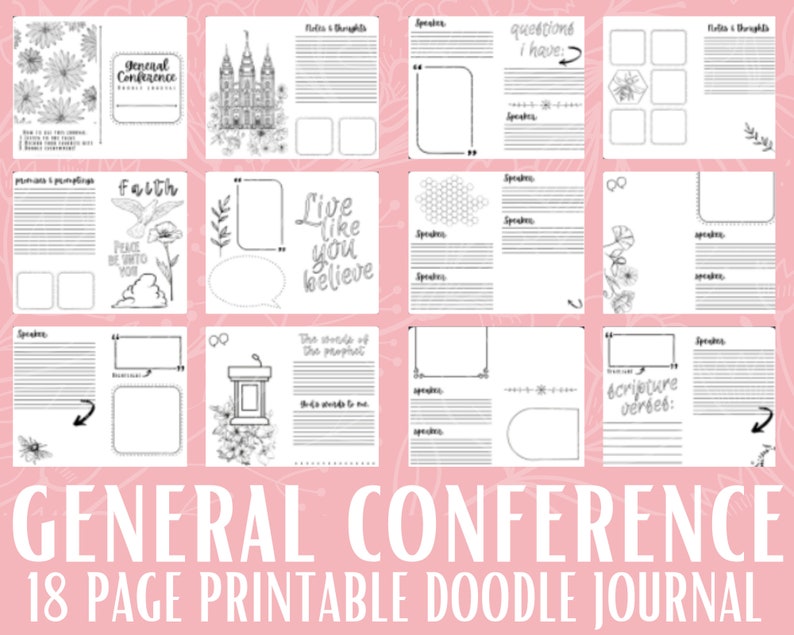 I designed this doodle journal specifically for young women! It has become a popular item in my Etsy shop.
Featuring 18 pages of teenage-approved doodles, this journal has places for note taking, pondering, recording impressions, and of course doodling!
You can print this at home or at church or at a print shop, and put it together with your young women for a really fun week day activity!
This physical journal is available on amazon, it has a ton of pages and a "look inside" feature for you to peek before you purchase!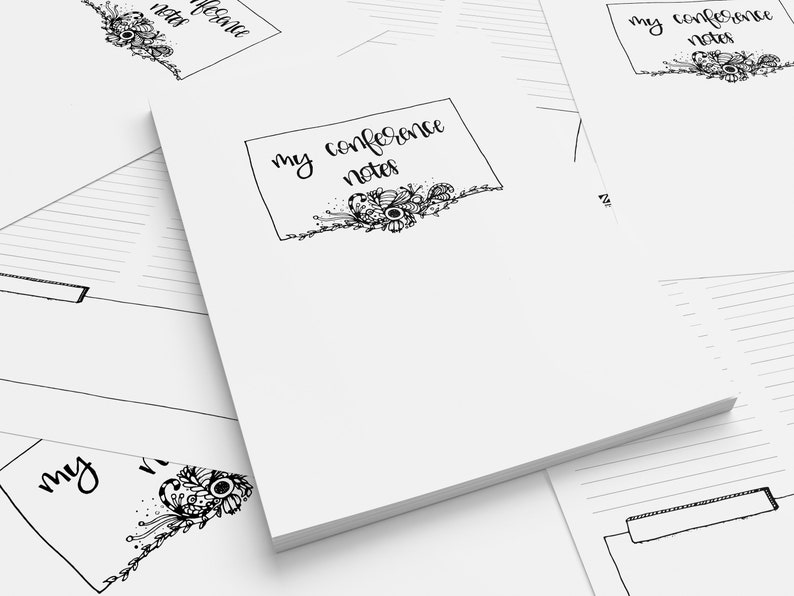 This floral and cute journal printable by Testify With Elegance has blank lined pages, as well as pages for each individual speaker!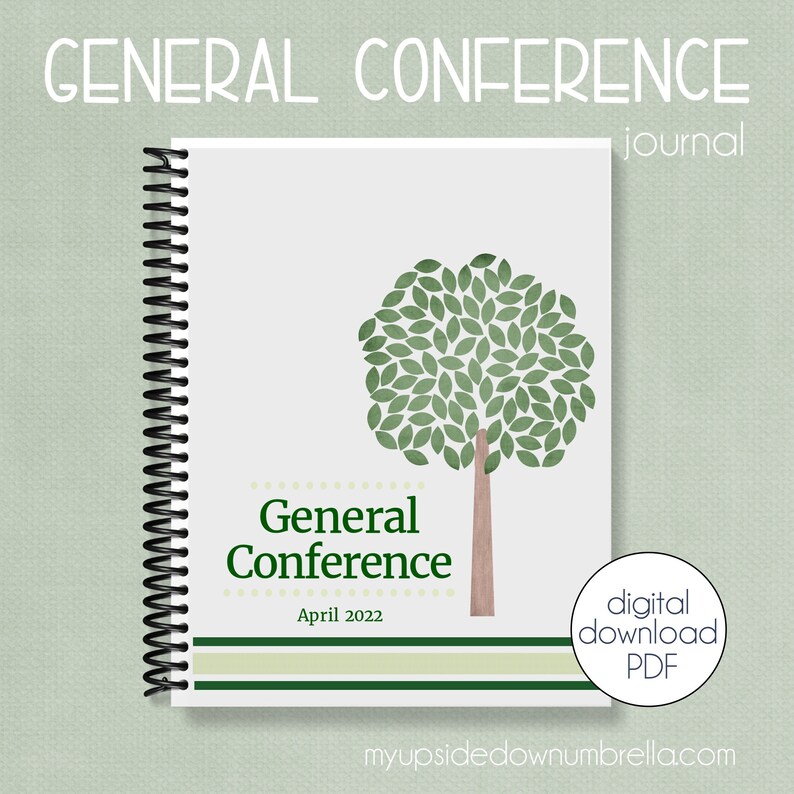 This printable packet is a colorful study journal specifically for April 2022. It has a testimony page, a questions and answer page, and so much more. Designed by MyUpsideDownUmbrella.
These FREE printables by a Lively Hope are super cute and perfect for cutting and gluing inside of a journal you already have. Could be printed on sticker paper!
Printable Activities:
From General Conference Bingo, to games, quizzes, and more, these activities are fun for older kids and youth alike.
Drive around with your primary presidency and gift the kids these printables before conference weekend!
There are a lot of awesome printable pages in this set of FREE general conference printables. Head on over to kikicomin to download!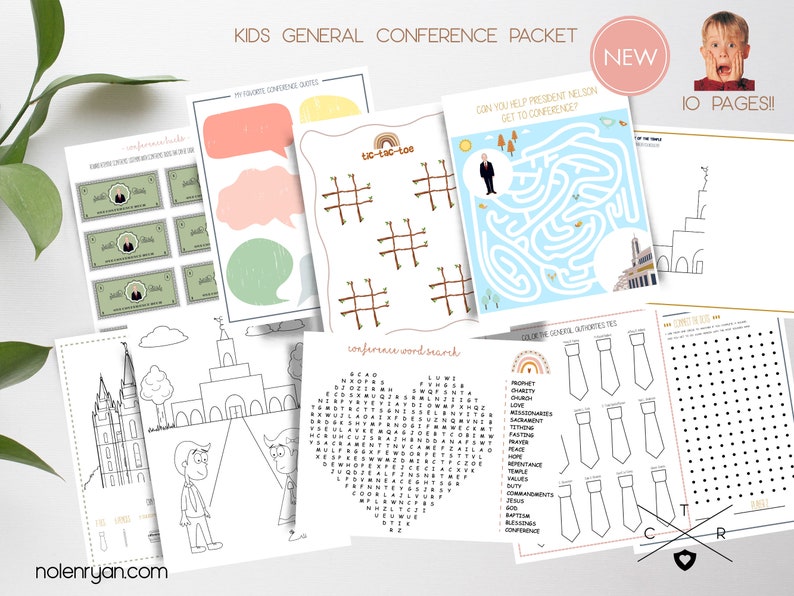 A cute and colorful activity packet for cheap by NolenRyanDesigns!
Some of the fun pages include:
A word search
Tic Tac Toe
A Maze
Conference "Bucks"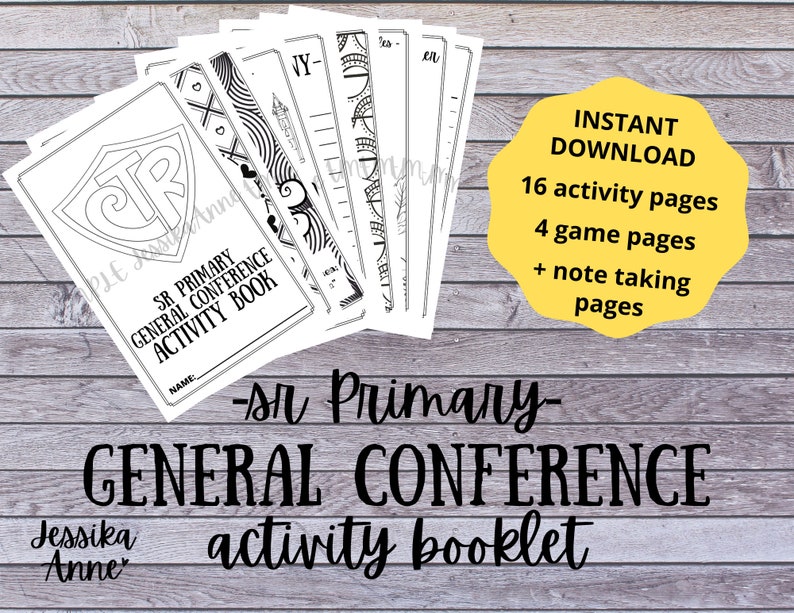 JessikaAnne's Senior Primary General Conference Activity booklet has it all! Game pages, activity pages, AND note pages.
It also has a "Name" line on the front to make it easy to tell who's is who's if you have multiple kids.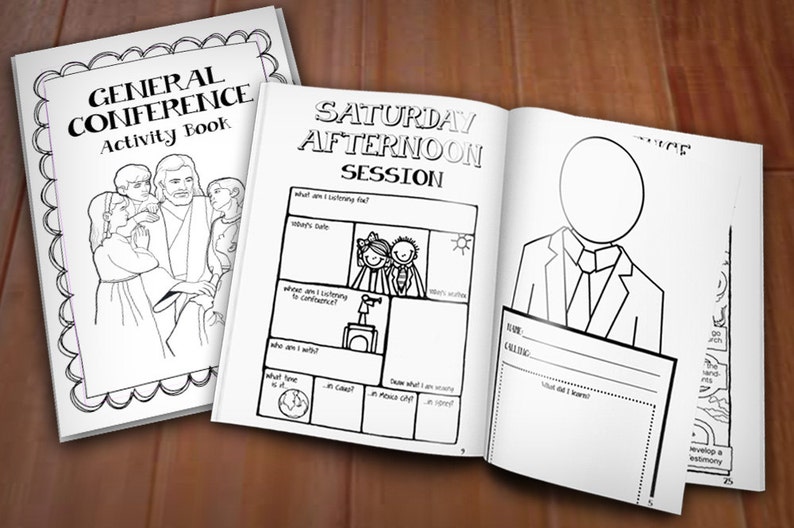 Another activity packed printable with mazes, coloring pages, word puzzles, note spaces, and more! By PrintasticDesign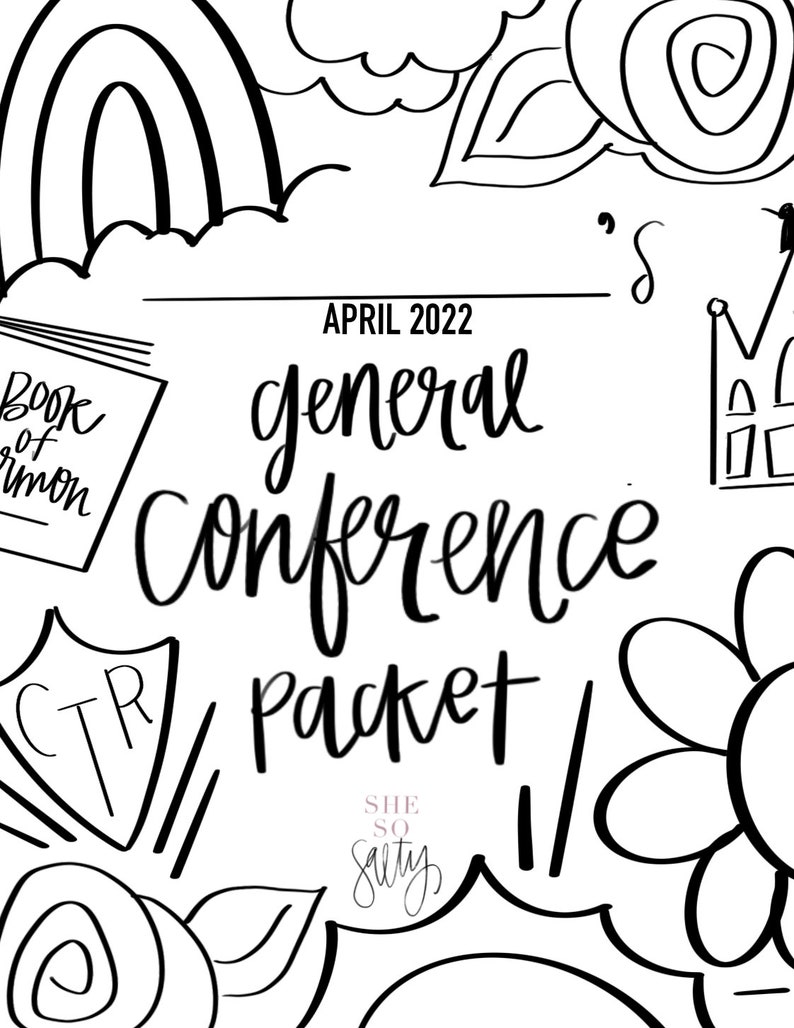 Hand doodled 26 page packet! Instant download for primary kids and youth.